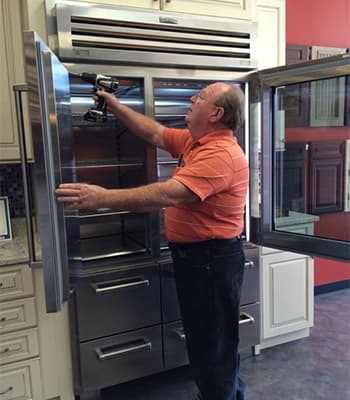 About Appliance Man, Inc. Trusted Appliance Installer of Memphis, TN
Mark Burgess, owner of Appliance Man, Inc. is an independent high end appliance installer.
He grew up in a family owned appliance business in Memphis, TN and know the value of quality work and customer service.
He's been self-employed since 1987 and worked as a independent appliance installer and subcontractor to all the major appliance stores in Memphis, TN.
Mark is also a longtime independent subcontractor in the new construction and remodeling business in of Memphis, TN and surrounding area. This means he has likely worked in your grandmother's house, your mother's house, and now yours.
Mark Burgess worked for the regional distributors and manufacturers, as a warranty exchange person as well as a problem solver and a troubleshooter.
He is also a Certified Appliance Installer with Wolf® and Subzero®. If you buy any of their products and we install them, you will get one extra year warranty from the factory!
You Can Count On Appliance Man, Inc.
Certified Professional Installer
FREE On-Site Estimates
Will SAVE YOU the most MONEY
FREE consultation when updating your home for resale